I AM TECHNO!
Angie Taylor brings her unique style, intense techno and boundless energy to clubs and festivals around the world! In short: Fresh Straight Forward Techno Music – performed by a charismatic female Artist which is just ON FIRE for her passion in high quality techno music. A hybrid show of driving beats, live bass guitar and a unique vocal performance. Style: Pure Techno – Straight Forward!
"The Bassmag" (USA) named her to the Top 25 female Bassplayers.
"Helene Hecht Prize" for "Best Performing Artist"- City of Mannheim (GER).
"Clulture Prize for Popmusik" – City of Friedrichshafen/Ger
Stipend for Extraordinarily Talented Students and the Angie Taylor Show – Lions Club Mannheim (GER).
"Prize for New Music Concepts"—Kunststifung des Landes Baden-Württemberg, Stuttgart (GER).
Master Degree in "Performing Arts" / Popacademy Mannheim (GER).
As an bassplayer she was performing with Jeff Mills at Louvre Museum in Paris (FRA) in June 2015.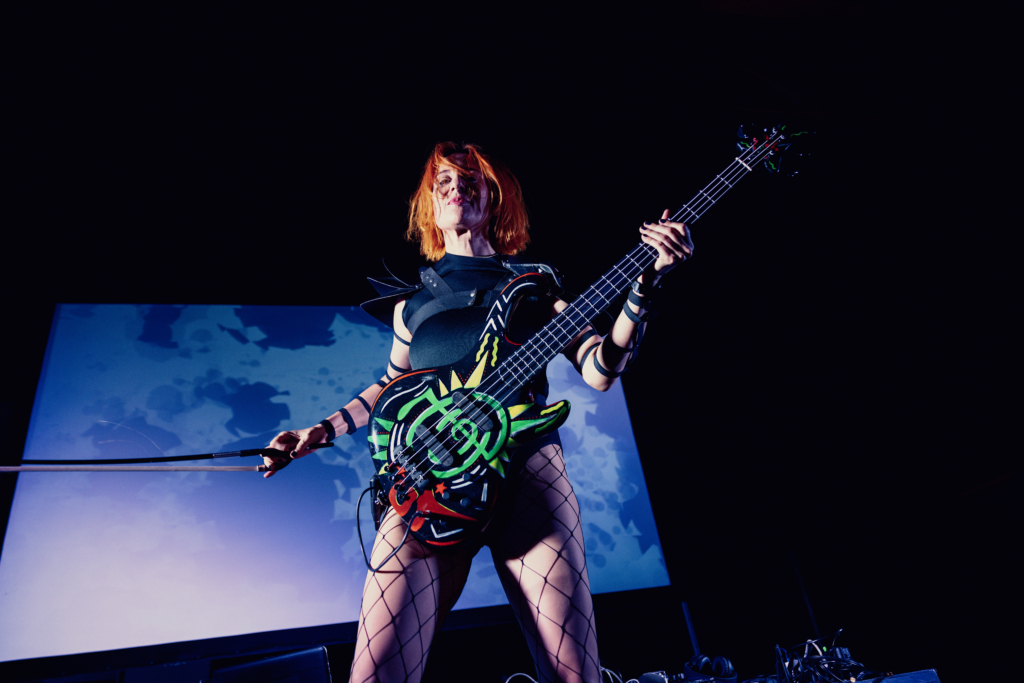 Credits:
Jeff Mills, Streetparade Zuerich (ch), Miami Music Week (USA) – Xone DJ, SpinnZinn presFusion Festival (ger), Warm Up for Richie Hawtin at "about lanc" in Berlin, Modular Festival Switzerland, Cultural Exchange Tour in Saudi Arabia for representing german Techno Music in the Underground Scene of Saudi Arabia, Ipse Berlin, Disko Zwei Mannheim (ger), Cosmopop Mannheim (ger), Loft Ludwigshafen (ger) Hafen49 (ger), Space Monki Zuerich (ch), Alte Kaserne Zuerich (ch), Pollerwiesen Cologne, Basing House London, Underworld London, Basing House London, Arte TV France, Viva, Pro7, RTL, ZDF, Louvre Museum Paris, Art Museum Mannheim (ger), CSD (ger), World Aids Day (ger), CSD, About Blank Berlin, Johnny Knueppel Berlin, Campari, Tanz der Baesse, Bass Pofessor (ger), Faze Magazin (ger), Pure Ibiza Radio (esp), Evosonic Radio (ger), Radio X Basel (ch), Balance.fm radio (hrv), underground effects podcast (ch), and many more…
POWERED BY
AIAIAI // Allen & Heath // Daslebenisteindschungel
Eich Amplification // Jens Ritter Instruments
RME // Roland Germany// Sommer Cable